Mit "Rahabh" und "March Of Black Earth" bieten I AM HERESY einen Vorgeschmack auf "Thy Will", das am 28. Februar 2014 in Deutschland, Österreich und der Schweiz erscheint. Für den kostenfreien Download muss man sich lediglich auf der folgenden Landingpage mit einer Emailadresse registrieren: http://smarturl.it/iah_freesongs
Aktuell touren I AM HERESY in den USA mit Off With Their Heads, bevor sie kurz nach der Veröffentlichung von "Thy Will" Europa mit Wolves Like Us unsicher machen werden. "Thy Will" kann man sich bereits Preorder sichern: http://smarturl.it/iamheresyCMD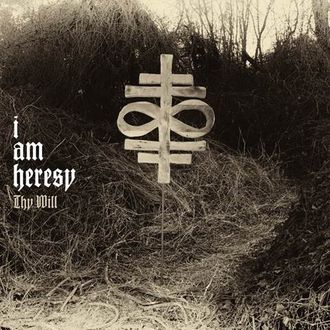 BLACK SOUL CHOIR TOUR 2014
I AM HERESY
auf Tour mit Wolves Like Us
Visions, Fuze. Ox präsentieren:
08.04.2014 - DK - Kopenhagen, Beta
09.04.2014 - D - Bremen, Tower
10.04.2014 - NL - Amsterdam, Winston
11.04.2014 - B - Antwerpen, JC Kavka
12.04.2014 - D - Essen, Cafe Nova
13.04.2014 - D - Siegen, Vortex
14.04.2014 - D - Wiesbaden, Schlachthof
15.04.2014 - CH - St. Gallen, Grabenhalle
16.04.2014 - D - München, Feierwerk
17.04.2014 - SLO - Ljubljana, Gala Hala
18.04.2014 - I - Bologna, Freakout Club
19.04.2014 - HR - Zagreb, akc Attack
20.04.2014 - H - Budapest, Dürer Kert
21.04.2014 - CZ - Prag, 007
22.04.2014 - D - Berlin, Cassiopeia
Unter den folgenden Links gibt es die passenden Videos zu den Songs zu sehen:
"Rahabh" (Lyricvideo): http://www.youtube.com/watch?v=3MPEfPpRhKo
"March Of Black Earth": http://www.youtube.com/watch?v=6J6Sz5TF52o
Nathan Gray (Vocals, auch Boysetsfire) über das ungewöhnliche Video zu "March Of Black Earth": "'March Of Black Earth', through symbolism and archetype, stands in defiance of the standard views of "good" and "evil". It speaks of human exploration into a life without fear or reverence for imaginary deities, who are bent on suppressing our most natural desires. If those deities deem a lust for knowledge, freedom of our carnal self, and disobedience to be sinful, then let us become the best sinners we can be! Each suffering character in the video represents self-sacrifice, killing what is left of our self-expression. The ominous beast in the plague mask represents each character's individual oppression. Their freedom is personified by the archetype Belial, or Baal, ("without a master") who represents an infernal innocence, freedom, and mockery of self imposed slavery. Hear the call... Free yourself from the..."
I AM HERESY sind:
Nathan Gray - Vocals
Jay Sin - Guitar
Simon Gray - Guitar
Gregg Kautz - Guitar
Matt Balog - Bass
Crumbs - Drums
I AM HERESY online:
https://www.facebook.com/iamheresy