Um ihr kommendes Album "Goliath" zu promoten, stehen die Los Angeles Metaller BUTCHER BABIES kurz vor ihrer bisher größten Europa Tour. Nachdem die BUTCHER BABIES als Support für The Defiled auf der "No Place Like Home" Tour in Großbritannien bestätigt wurden, kündigen sie nun ihre erste europäsische Headliner Tour an. BUTCHER BABIES freuen sich auf ihre Rückkehr nach Großbritannien und dem europäischen Festland wie Sängerin Heidi berichtet: "We are excited to celebrate the release of our Album Goliath in Europe by touring throughout Spain, Italy, Germany and the Netherlands. We can't wait to finally meet our devoted European fan base."
Werft einen ersten Blick auf das neue "I Smell A Massacre" Video, welche live beim Mayhem Festival 2013 aufgenommen wurde: http://www.youtube.com/watch?v=NdJAkizFLwo
"Goliath" wurde von Josh Wilbur (Gojira, Lamb of God, Hatebreed) produziert. Das Resultat ist ein klares Statement an die Metal-Community: "Forget everything you think you know about the BUTCHER BABIES, because they've got their sights set to slay on 'Goliath'".
"Goliath" wird am 24. Januar veröffentlicht.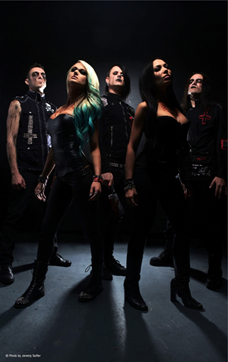 "Goliath" track listing:
01. I Smell A Massacre
02. Magnolia Blvd.
03. C8H18 (Gasoline)
04. Grim Sleeper
05. Goliath
06. In Denial
07. Give Me Reason
08. The Mirror Never Lies
09. Dead Poet
10.The Deathsurround
11.Axe Wound
BUTCHER BABIES live:
08.02.2014 - UK - Nottingham, Rock City*
09.02.2014 - UK - Newcastle, Academy 2*
10.02.2014 - UK - Glasgow, King Tut's*
11.02.2014 - UK - Manchester, Academy 2*
12.02.2014 - UK - Norwich, Waterfront*
13.02.2014 - UK - Brighton, The Haunt*
14.02.2014 - UK - London, Islington Academy*
15.02.2014 - UK - Southampton, Talking Heads*
16.02.2014 - UK - Bristol, Thekla*
17.02.2014 - UK - Birmingham, Asylum*
18.02.2014 - UK - Leeds, Cockpit*
21.02.2014 - E - Erandio, Sonora
22.02.2014 - E - Madrid, La Boite
23.02.2014 - E - Zaragoza, Sala Utopia
24.02.2014 - E - Barcelona, Rocksound
26.02.2014 - I - Romagnano Sesia, Novara, Rock'n Roll Arena
27.02.2014 - D - München, Backstage Club
28.02.2014 - D - Bochum, Matrix
01.03.2014 - NL - Amsterdam, The Winston
* Supporting The Defiled
BUTCHER BABIES online:
www.facebook.com/ButcherBabiesMusic