Eine schwedisches Tourpaket bestehend aus MARDUK, GRAVE, DEATH WOLF und VALKYRIA wird ab dem 28. November Europa in Schutt und Asche legen und die drei partizipierenden Century Media Bands freuen sich schon sehr auf den gemeinsamen Trip und habe einige teuflische Überraschungen für ihre Fans parat:
"As we just played the final date of the Serpent Sermon Tour which has been an intense march across this world, we are proud to announce that before this year comes to an end yet another march over Europe will be done! Three weeks of mayhem as we are teaming up with legendary death metal act GRAVE as well as VALKYRJA and DEATH WOLF. MARDUK will be spearheading and be performing the entire "Panzer Division Marduk" album from 1999, and as 2013 marks the 20th anniversary of the "Those Of The Unlight" album we will be doing that one as well! So don't miss out on this march over Europe!!"
Morgan / MARDUK
"The GRAVE camp is really looking forward to this tour. It's a killer line-up with different kinds of styles still attractive to a lot of the same audience and I'm sure it will be a blast for us as well as for the fans.
We will add some interesting tracks to our set-list, rarities that we played on the 25th anniversary gig here in Stockholm earlier this fall. Europe beware and lock up your daughters!"
Ola Lindgren / GRAVE
"We are looking forward to do our first European Tour in great company with this acts and bring Black Armoured Death over European soil! Don't miss us as we march over Europe on our crusade unleashing the black flame!"
M.Bäckbrant / DEATH WOLF
Checkt auch die Death Certificate Preiskampagne, die noch bis zum 30. November läuft und alle Century Media Alben von MARDUK und GRAVE sowie weitere Knüppelklassiker zu besonders günstigen Kursen anbietet:
http://www.death-certificate.net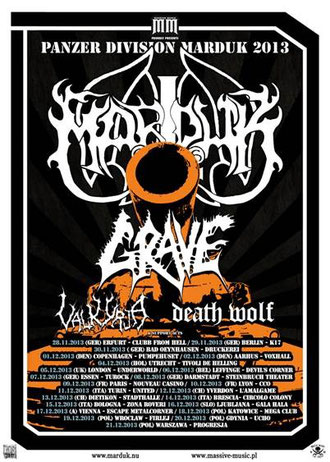 "MARDUK PANZER DIVISION 2013"
MARDUK
GRAVE
DEATH WOLF
VALKYRJA
+ support acts
28.11.2013 - D - Erfurt, Club From Hell
29.11.2013 - D - Berlin, K17
30.11.2013 - D - Bad Oeynhausen, Druckerei
01.12.2013 - DK - Copenhagen, Pumpehuset
02.12.2013 - DK - Aarhus, Voxhall
04.12.2013 - NL - Utrecht, Tivoli De Helling
05.12.2013 - UK - London, Underworld
06.12.2013 - B - Leffinge, Devil's Corner
07.12.2013 - D - Essen, Turock
08.12.2013 - D - Darmstadt, Steinbruch Theater
09.12.2013 - F - Paris, Nouveau Casino
10.12.2013 - F - Lyon, CCO
11.12.2013 - I - Turin, United
12.12.2013 - CH - Yverdon, L'Amalgame
13.12.2013 - CH - Dietikon, Stadthalle
14.12.2013 - I - Brescia, Circolo Colony
15.12.2013 - I - Bologna, Zona Roveri
16.12.2013 - SLO - Ljubljana, Gala Hala
17.12.2013 - A - Vienna, Escape Metalcorner
18.12.2013 - PL - Katowice, Mega Club
19.12.2013 - PL - Wrocław, Firlej
20.12.2013 - PL - Gdynia, Ucho
21.12.2013 - PL - Warszawa, Progresja
Booking: http://www.massive-music.pl
MARDUK online:
www.facebook.com/mardukofficial
GRAVE online:
http://www.facebook.com/GraveOfficial
DEATH WOLF online: