Metal-Legende DEICIDE werden ihr neues Album "In The Mind Of Evil" am 22. November via Century Media Records veröffentlichen. Frontmann und Gründungsmitglied Glen Benton könnte nicht stolzer sein auf sein neuestes Werk leibhaftiger Boshaftigkeit!
"Do you hear that? It's the sound of Satan singing along to the new DEICIDE!", kommentiert Glen Benton das neue Album und fügt noch hinzu, dass "In The Minds Of Evil" sich ungefähr so anfühlt: "like King Kong taking a shit on a daisy".
Das nunmehr elfte Studioalbum der bereits 25 Jahre andauernden Bandkarriere wurde von Jason Suecoff (All That Remains, Triovium, Death Angel) produziert. Das verstörende Artwork stammt von dem Gemälde "Power Of The Mind" des australischen Künstlers Simon Cowell und bietet die passende Visualisierung für die elf Songs des neuen Albums!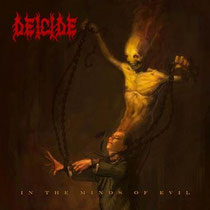 01. In The Minds Of Evil
02. Thou Begone
03. Godkill
04. Beyond Salvation
05. Misery Of One
06. Between The Flesh And The Void
07. Even The Gods Can Bleed
08. Trample The Cross
09. Fallen To Silence
10. Kill The Light Of Christ
11. End The Wrath Of God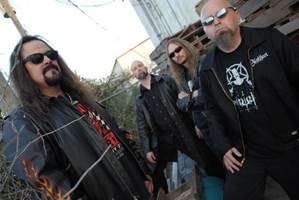 DEICIDE sind (von links nach rechts):
Glen Benton (vocals and bass)
Kevin Quirion (guitars)
Steve Asheim (drums)
Jack Owen (guitars)
Discography (nur Studioalben):
Deicide (1990)
Legion (1992)
Once Upon The Cross (1995)
Serpents Of The Light (1997)
Insineratehymn (2000)
In Torment In Hell (2001)
Scars Of The Crucifix (2004)
The Stench Of Redemption (2006)
Till Death Do Us Part (2008)
To Hell With God (2011)
In The Minds Of Evil (2013)
DEICIDE online: