DOMINATION!
"Bonded by rebel blood
Breaking the chains of slavery
Breaking the chains of god
Onwards to the other side
On a wild ride …"
"Es gibt wohl kaum eine konsequentere Band im Black Metal - mit oder ohne "große" Produktion. Eines der Highlights des Jahres, das steht fest."
ROCK HARD (DE) (9/10 Punkte, Soundcheck #2)
"Ein weites Spektrum, endlose Dunkelheit, pure Emotionen und schierer Hass, getränkt in eine tiefschwarze Aura – ein Wahnsinnsalbum! Wahrscheinlich haben wir damit bereits die Black Metal-Scheibe des Jahres vor uns liegen!"
METAL HAMMER (DE) (7/7 Punkte, Soundcheck #3)
"Böse Melodien, irgendwo zwischen Dissection und Mayhem, das sprichwörtliche schwarze Feuer und ein hohes Maß an Eigenständigkeit sind auch auf "The Wild Hunt" obligatorisch"
LEGACY (DE) (14/15 points)
"The Wild Hunt embodies not only the most anticipated heavy record of the year, but also the most important album of Watain's career."
METAL HAMMER (UK) (9/10 points)
"Every single song is an explosive revolution."
TERRORIZER (UK) (9,5/10 points)
"Exciting, vital music that grabs you by the soul."
KERRANG (UK) (KKKKK)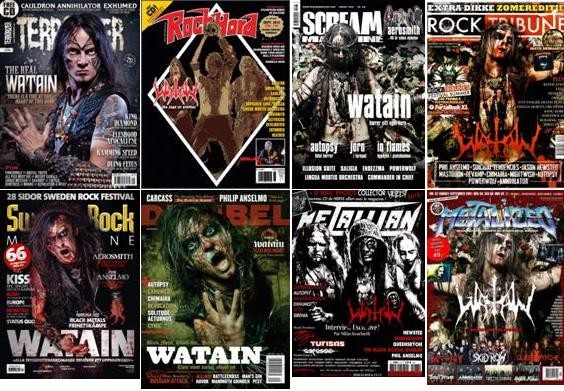 "The Wild Hunt is amazing! Watain are the masters! A true icon of the modern Black Metal scene"
METALLIAN (FR)
"Watain adds new influences and colours in its black metal and creates its best album to date. An intense, great work that should attract many new fans."
ROCK HARD (FR)
"The essential extreme metal album of this year"
ROCK HARD (IT)
"Mission accomplished."
AARDSCHOK (NL) (86/100 points)
"This album contains all Watain trademarks."
ROCK TRIBUNE (BE) (97/100 points)
"More of this, please!"
GHOST CULT (NL) (8/10 points)
"The Wild Hunt" erscheint HEUTE in folgenden Formaten:
· Standard CD Jewelcase
· Limited Edition CD Mediabook
· 2LP, 180gr black Vinyl
· Limited Edition Box Set
· Digital Download
Pre-Order Links und Audio Samples findet ihr auf www.thewildhunt.se
WATAIN online: