Ihr könnt euch den Song "Ghastly" vom kommenden BROKEN HOPE Album "Omen Of Disease" ab sofort hier downloaden:
http://www.centurymedia.com/specials/brokenhope
BROKEN HOPE's Jeremy Wagner sagt:
"I'm really excited to have "Ghastly" released as a free download for the world – our gift to you. I have to say, "Ghastly" is one of my favorite tracks from the "Omen Of Disease" album! As I wrote the music on this song, I took riffs I'd been saving for awhile, combined them with new death metal ideas, and sewed the whole thing together to make for one of our sickest and most relentless musical tracks. Lyrically, I wrote about an unfortunate person who was born so physically repulsive from head-to-toe/inside-and-out, that the mere sight of the hideous form could almost blind and nauseate you. Like a Gorgon, but even more horrific. Hence the line: 'Ghastly...a horrid blight upon the eyes.' With "Ghastly" and "The Flesh Mechanic", I think these tunes will give everyone a good idea of what to expect from the entire "Omen Of Disease" album. Enjoy!"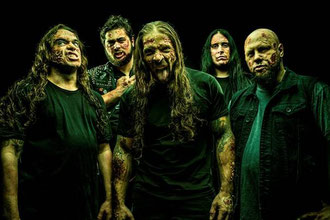 BROKEN HOPEs sechstes Studio Album "Omen Of Disease" ist das erste Opus der Death Metal Legende seit 1999 und wird am 27. September über Century Media Records veröffentlicht. Es wird brutal!
BROKEN HOPE is:
Damian Leski – Vocals
Jeremy Wagner – Guitars
Shaun Glass – Bass
Chuck Wepfer - Lead Guitars
Mike Miczek - Drums
Discography:
Swamped In Gore (1991)
Hobo Stew EP (1993)
The Bowels Of Repugnance (1993)
Repulsive Conception (1995)
Loathing (1997)
Grotesque Blessings (1999)
Omen Of Disease (2013)
Broken Hope online: