BROKEN HOPE enthüllen das Cover Artwork für ihr lange erwartetes Album "Omen Of Disease", welches vom weltweit renommierten Horror-Künstler Wes Benscoter (Slayer, Hypocrisy, Autopsy, Kreator etc.) stammt.
BROKEN HOPEs Jeremy Wagner erzählt dazu: "Wes Benscoter is one of my favorite artists, EVER. In my opinion, he's right up there with Frank Frazetta, Michael Whelan, and Todd Schorr. Ever since Benscoter did our "Repulsive Conception" and "Loathing" album covers, I've wanted to work with him again. I was beyond thrilled when Benscoter agreed to take on the "Omen Of Disease" project…and he nailed it! He's captured the vile essence, putrid vibe, and apocalyptic, disease-laden horror of "Omen Of Disease". Thank you for creating another masterpiece, Wes Benscoter."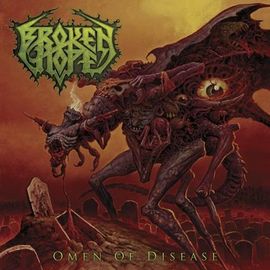 "Omen Of Disease" enstand in zwei Studios: Die Drum Parts wurden exklusiv im Belle City Sound in Racine zusammen mit Chris Wisco (LAZARUS A.D., JUNGLE ROT, ORIGIN, GORGASM) und der Rest des Albums im Mercenary Digital Studio in Zion gemeinsam mit Scott Creekmore (BROKEN HOPE, DIRGE WITHIN, LIVIDITY) aufgenommen. "Omen Of Disease" wird am 27. September weltweit durch Century Media Records eröffentlicht.
BROKEN HOPE sind:
Damian Leski – Vocals
Jeremy Wagner – Guitars
Shaun Glass – Bass
Chuck Wepfer - Lead Guitars
Mike Miczek - Drums
Discography:
Swamped In Gore (1991)
Hobo Stew EP (1993)
The Bowels Of Repugnance (1993)
Repulsive Conception (1995)
Loathing (1997)
Grotesque Blessings (1999)
Omen Of Disease (2013)
Broken Hope Online: