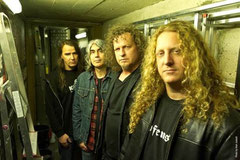 Die kanadischen Progressive Metal-Pioniere von VOIVOD haben das Video zu dem Titeltrack ihres aktuellen Albums "Target Earth" fertiggestellt. Der Clip wurde von dem italienischen Produzenten und Multimedia-Künstler Nicola Piovesan gestaltet, der das Artwork der LP von VOIVOD-Drummer Michel "Away" Langevin in 3D-Grafiken umgesetzt hat.
Das Video gibt es hier zu sehen:
http://www.metalinjection.net/video/voivod-target-earth-video-premiere
Away kommentierte die Fertigstellung des Videos wie folgt: "I met Nicola Piovesan at the Voivod/Unkind how in Helsinki on October 31, 2012. We had a discussion about my 3D Graphics for the album Negatron and Nicola mentioned the possibility of him doing a 3D Motion video for our new album Target
Earth. After viewing his fantastic video for THE CORE by the band ON|OFF|MAN, we knew he was the right person to capture the cyber world of Voivod. To us, the result is simply spectacular!"
"Target Earth" ist als Digital Download auf iTunes und in verschiedenen physischen
Formaten auf CM Distro erhältlich.
VOIVOD line-up:
Michel Langevin (Away) - drums
Denis Bélanger (Snake) - vocals
Jean-Yves Thériault (Blacky) - bass
Daniel Mongrain (Chewy) - guitar