Century Media Records Europa sind stolz die Metal-Veteranen UNEARTH in der Familie willkommen zu heißen. Zusammen mit dem renommierten Produzenten Mark Lewis (Trivium, DevilDriver, The Black Dahlia Murder, Deicide uvm.) arbeiten UNEARTH derzeit an ihrem neuen Studioalbum, welches voraussichtlich in der zweiten Jahreshälfte auf den Markt kommen wird. Bei dem bisher unbetitelten Album handelt es sich um das sechste seit der Bandgründung im Jahre 1998.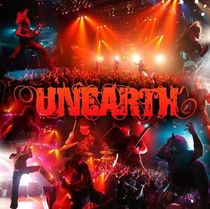 Sänger Trevor Phipps kommentiert den Status zum Album wie folgt: "A new chapter has begun for UNEARTH as we have found a few new places to call home. By joining forces with Century Media (Europe), E1 (North America), Howling Bull (Japan) and 3Wise (Australia) we will have a more focused attack from some of the most well-known and respected labels in the world. We know this new beginning of sorts will bring bigger and better things for UNEARTH and our fans and we couldn't be more excited for the future of all things UNEARTH. We are currently in the studio recording some of the most aggressive, anthemic and energized metal we have ever written and we look forward to unleashing it to you all when it is finished. Expect to hear more about our new album, release dates and future worldwide touring plans later this summer. - We also want to take this opportunity to thank Metal Blade Records for being our label home for almost a decade. In that time we released four LP's and a double DVD, circled the Globe playing Heavy Metal dozens of times and experienced some of the greatest moments of our collective lives. Metal Blade helped us along the path of our dream and we are eternally grateful. We start new label relationships today, but we will always consider ourselves part of the Metal Blade Records family."
Mit ihrer 15-jährigen Bühnenerfahrung haben UNEARTH sich einen Namen als außergewöhnliche Live-Band erarbeitet und sind eine feste Institution in der Metal-Szene geworden, an der kein Weg vorbeiführt. Die Band hat allen Launen der Zeit getrotzt, tourte regelmäßig und hat ständig an neuem Material gearbeitet. Neben den ca. 500.000 weltweit verkauften Alben haben UNEARTH stets ihre Live-Qualitäten unter Beweis gestellt und sind bekannt für ihr wildes Stage-Acting und ihre Fan-Nähe. Auf diesem nun bereits seit 15 Jahren andauernden Trip haben sich die Jungs große und kleine Bühnen mit solch Größen wie Slipknot, Slayer, Killswitch Engage, Lamb Of God, All That Remains, DevilDriver, Dimmu Borgir, Gwar und Whitechapel geteilt. Nicht zu vergessen sind die Auftritte bei weltweit renommierten Festivals wie Download (UK), With Full Force (DE), Wacken (DE), Graspop (BE), Hellfest (FR) oder dem Loud Park in Japan.
UNEARTH sind diesen Sommer wieder in Europa unterwegs und werden uns auf diversen Festivals und Clubshows beglücken:
UNEARTH live:
21.06. (PL) Jaworzno - Metalfest Open Air
22.06. (F) Clisson - Hellfest Open Air
23.06. (AT) Wien - Arena (w/ Hatebreed)
26.06. (DE) Munich - Backstage
27.06. (CH) Basel - Sommercasino
28.06. (D) Lünen - Lükaz
29.06. (CZ) Spalene Porici/Plzen - Basinfirefest
30.06. (CZ) Olomuc – S-Cube
02.07. (B) Genk - JH Ginsert
03.07. (DE) Siegen - Vortex Music Club
04.07. (DE) Stuttgart - Universum
05.07. (DE) Münster - Skaters Palace (Vainstream Desperados Opening Night)
06.07. (AT) Salzburg - United People Fest @ Rockhouse
07.07. (ES) Santa Perpetua - Brutal Noise Fest
08.07. (ES) Madrid - Sala Independance
09.07. (PT) Lisboa - Republica da Musica
10.07. (ES) La Coruna - El Pantalan
11.07. (DE) Ballenstedt - Rock Hartz Fesival
12.07. (DE) Eisenach - Alter Schlachthof
13.07. (IT) Bolzano - Rock im Ring Festival
UNEARTH haben trotz ihres relativ jungen Durchschnittsalters bereits Legendenstatus errungen und loten die Grenzen ihrer Musik immer weiter aus, jedoch ohne die eigenen Wurzeln zu vergessen oder sich in musikalischen Experimenten zu verlieren. Die breite Fangemeinde der Band ist der beste Beweis dafür, als auch die Loyalität der Musiker gegenüber dem Heavy Metal-Lifestyle!
UNEARTH Line-Up:
Trevor Phipps - Vocals
Buz McGrath - Guitar
Ken Susi - Guitar
John Maggard - Bass
Nick Pierce - Drums
UNEARTH online: