Als Vorgeschmack auf ihre bevorstehende Veröffentlichung, haben ORPHANED LAND ein neues Lyrics-Video zu dem Song "Let The Truce Be Known" herausgebracht. Der Track stammt von dem neuen und sechsten Album der Band, das den Titel "All Is One" trägt und am 21. Juni 2013 via Century Media Records veröffentlicht wird.
Sänger Kobi Farhi erklärt den Hintergrund des Songs: "Let The Truce Be Known": "The main inspiration for the story behind the song lies with the famous World War 1 story called "The Christmas Truce". We were simply blown away from that story. From the way that those holyday songs were the trigger to bring the enemies to co-exist and celebrate together as brothers for one night in No Man's Land. The next day they just got back to bomb and kill each other. It is an outstanding story that shows us the eternal hope of mankind, the power of music and the tragedy that despite all of that - evil still prevails."
"Let The Truce Be Known" kann auf dem Century Media Youtube-Kanal angehört werden:
Den vorab veröffentlichten Album-Track "Our Own Messias" gibt es HIER zu hören!
"All Is One" wurde von Jens Bogren gemixt (Kreator, Amon Amarth, James LaBrie, Devin Townsend Project, Opeth) und in drei verschiedenen Ländern aufgenommen: Israel, Türkei und Schweden. Ironischerweise sind diese Länder jüdisch, muslimisch und christlich, was ORPHANED LAND in ihrer Botschaft - der Einheit durch Musik - bestärkt. Über 40 Musiker waren an der Umsetzung von "All Is One" beteiligt, darunter 25 Chorsänger und acht klassische Geigen-, Bratschen- und Cello-Spieler aus der Türkei.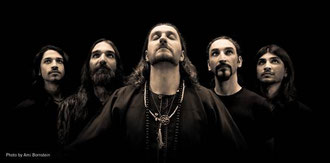 ORPHANED LAND Live 2013:
13.04. PPM Festival - Lotto Mons Expo / Be
29.05. Teatro Odisseia - Rio de Janeiro / Br
30.05. Hangar 110 - Sao Paulo / Br
01.06. Roca 'n' Roll festival - Varginha / Br
07.06. C.C.Niza - Lima / Per
08.06. Teatro Alianza Francesa - Medellin / Co
09.06. TBA - Bogota / Co
09.08. Brutal Assault Festival / Cze
10.08. Artmania Festival - Sibu / Ro
16.08. Summer Breeze Festival - / Ger
ORPHANED LAND – All Is One Europa-Tour 2013:
20.09. Colmar - Le Grillen / Fr
21.09. Lille - Le Splendid / Fr
22.09. Tongeren - Sodom Klub / Be
24.09. Aschaffenburg - Colossal / Ger
25.09. Bochum - Matrix / Ger
26.09. Hamburg - Rock N Roll Warehouse / Ger
27.09. Kobenhavn - Amager Bio Uniting The Powers Of Metal / Dk
28.09. Gera - Sachsischer Bahnof / Ger
29.09. Nuernberg - Hirsch / Ger
01.10. Praha - Exit us / Cz
02.10. Warsaw - Proxima club / Pl
03.10. Krakow – Lizard King club / Pl
04.10. Budapest - Club 202 / Hg
05.10. Vienna - Reigen Club / At
06.10. Bratislava - Randal Club / Sk
11.10. Sofia - Mix Tape 5 / Bg
12.10. Tessaloniki - Eight Ball Club / Gr
13.10. Athen - Kyttaro Live / Gr
15.10. Ankara - Jolly Joker Balans / Tk
16.10. Istanbul - Kucukciftkik Park / Tk
18.10. Belgrad - Dom Omladine / Srb
19.10. Zagreb - TBA / Ct
20.10. Maribor - Mc Pekarna Klub / Slov
23.10. Milan - Rock N Roll Arena / It
24.10. Prateln - Z7 / Ch
26.10. Lyon - o Totem Rillieux Mjc / Fr
27.10. Toulon - Le Vox / Fr
28.10. Toulouse - Connexion Live / Fr
29.10. Bilbao - Rock Star / Sp
31.10. Porto - Hard Club / Pt
01.11. Lisbon - Music Box / Pt
02.11. Madrid - Ramdall / Sp
03.11. Barcelona - Apolo 2 / Sp
04.11. Montpellier - L'antirouille / Fr
06.11. Nantes - Le Ferrailleur / Fr
07.11. Paris - Divan Du Monde / Fr
08.11. Zoetermeer - Boerderij / Nl
09.11. Apeldoorn - Gigant / Nl
11.11. Norwich - Waterfront / UK
12.11. Bilston - Robin 2 / UK
13.11. London - The Garage / UK
14.11. Manchester - Sound Control / UK
15.11. Dublin - The Pint / IRE
ORPHANED LAND online:
www.facebook.com/pages/Orphaned-Land/8776213035