James Murphy (Death, Obituary, Testament) und Trevor Strnad (The Black Dahlia Murder)
BROKEN HOPE haben gerade die Aufnahmen zu ihrem sechsten Studioalbum "Omen Of Disease" abgeschlossen. Eine von einer ganzen Reihe an Überraschungen, die dieses Album zu bieten hat, ist ein großartiger Gastauftritt von Trevor Strnad (The Black Dahlia Murder), der auf dem neuen BROKEN HOPE Track "Rendered Into Lard" zu hören ist.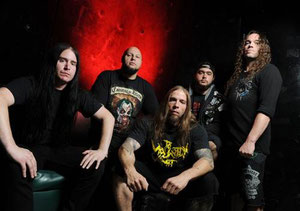 Trevor Strnad sagt dazu: "I am beyond excited to be involved in the rebirth of this legendary Death Metal monster. BROKEN HOPE has been one of my favorite bands since I was a young metalhead, it's an absolute honor and pleasure to be a small piece of the action! The best part is that my contribution allowed me to hear a new song before everyone else, and I can proudly say this: They're baaaacccckkk!!!!"
BROKEN HOPE haben außerdem James Murphy (DEATH, OBITUARY, TESTAMENT, etc.) mit an Bord geholt, der "Omen of Disease" in seinem Studio "Safehouse Production" gemixt und gemastert hat. Shaun Glass von BROKEN HOPE kommentiert das so: "We're pretty pumped to have long time friend and shred lord James Murphy on board for his über-sick mixing skills to complete the 'Omen of Disease' sessions. He has been part of BH history as he first appeared on our 'Repulsive Conception' album with a crushing guest solo...and now years later, Murphy will be on board to taking our finest works yet to a new level."
"Omen of Disease" ist in zwei Studios aufgenommen worden: Das Schalgzeug exklusiv und in Zusammenarbeit mit Chris Wisco (LAZARUS A.D., JUNGLE ROT, ORIGIN, GORGASM) bei Belle City Sound in Racine/ Wisconsin, der restliche Großteil des Albums wurde dagegen zusammen mit Scott Creekmore (BROKEN HOPE, DIRGE WITHIN, LIVIDITY) in den Mercenary Digital Studios in Zion/ Illinois eingespielt.
"Omen of Disease" soll im Spätsommer 2013 auf Century Media erscheinen. Mehr Infos zum neuen Album in Kürze.
BROKEN HOPE live
21.05. – Le Korigan – Aix-en-Provence (Luynes) (FR) – www.lekorigan.com *
25.05. – Extremefest – Hünxe (DE) – www.extremefest.eu
*erster BROKEN HOPE Auftritt in Frankreich
Broken Hope 2012:
Damian Leski – Vocals
Jeremy Wagner – Guitars
Shaun Glass – Bass
Chuck Wepfer - Lead Guitars
Mike Miczek - Drums
Discography
Swamped In Gore (1991)
The Bowels Of Repugnance (1993)
Repulsive Conception (1995)
Loathing (1997)
Grotesque Blessings (1999)
BROKEN HOPE im Internet: