neues Line-Up mit MANTIC RITUALs Ben Mottsman und Jeff Potts angekündigt
Die kalifornischen Thrash Metaller von WARBRINGER arbeiten derzeit an neuem Material für ihr nächstes Album, legen aber eine kurze Pause ein, um ihre ersten Südamerika Tour zu absolvieren.
"It's a tremendous feeling to have heavy metal fans in South America continuously ask us to perform in their home countries, let alone have promoters willing to invest in us to finally make this happen," kommentiert Schlagzeuger Carlos Cruz. "This 3-day weekend of performances will hopefully open the door to more opportunities for WARBRINGER to perform in many more countries there for the demanding fans. It's fact that South America upholds a die-hard heavy metal fanbase, and we'll be sure to NOT disappoint!"
Hier ein kurzes Promo-Video zum Tourstart: http://www.youtube.com/watch?v=MXhOh9kFLQw
Das Line-Up für Südamerika wird übrigens dasselbe sein wie bei der letzten sechswöchigen Europa- Tour im Sommer 2012 und den Headliner Shows in Australien. Eine offizielle Ankündigung seitens der Band, dass Gitarrist Jeff Potts und Bassist Ben Mottsman nun fix zum WARBRINGER Line-Up gehören, gab es bislang noch nicht, obwohl beide seit einem Jahr mit der Band auf Tour sind. Cruz löst die Situation nun wie folgt auf: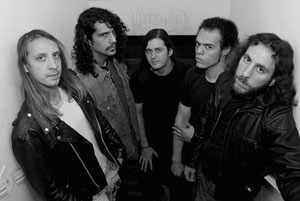 "Nearly 10 years in, over 1000 performances and countless miles traveled worldwide, WARBRINGER has to take whatever measures necessary in order to continue to move forward. More than ever, with the addition of Ben Mottsman on bass and Jeff Potts on guitar, the band has the strongest personal chemistry and musicianship to date. Being long time friends, it was picture perfect to bring them on board with their collective experience as working musicians. It's funny to recall being the first person to accidentally run into them on the street in Hollywood when they first moved out to L.A. with MANTIC RITUAL in 2008, and now it has come full circle to have them join WARBRINGER."
WARBRINGER live 2013:
April 5 - Centro de Convenciones Nera -- Lima, Peru w/ MASSACRE
April 6 - La Boveda -- Arequipa, Peru w/ MASSACRE
April 7 - Club Cadillac -- Bogota, Colombia
April 19 - Circo Volador -- Mexico City, Mexico w/ NILE
April 20 - Sindicato del Imss -- Tuxtla Gutierrez, Mexico
May 18 - Hell & Heaven Fest -- Guadalajara, Mexico w/ ANTHRAX, MOTORHEAD, TESTAMENT, IN FLAMES, EXODUS, SUICIDAL TENDENCIES, SODOM, SUFFOCATION and more
May 24 - Plea for Peace -- Stockton, CA w/ VEKTOR, HATCHET
May 25 - Thee Parkside – San Francisco, CA w/ VEKTOR, HATCHET **War Without End 5th Anniversary**
May 26 - The Whisky -- W. Hollywood, CA w/ VEKTOR, WITCHAVEN **War Without End 5th Anniversary**
May 27 - Alex's Bar -- Long Beach, CA w/ VEKTOR, EXMORTUS
July 6 - Homeless One Metalfest -- Whittier, CA w/ DECREPIT BIRTH, BONDED BY BLOOD, EXMORTUS, FALLUJAH
Weitere News zu WARBRINGER und dem kommenden Album folgen in Kürze…
WARBRINGER online:
www.facebook.com/Warbringermusic