Debutalbum im Herbst 2013
Kenny Hanlon - vocals
Rupert Keplinger - guitars, synth
Marshall Stephens - guitars
Gary Meskil - bass
Paul Keller - drums
siehe DARKHAUS:
Intercontinental Modern Rock-Formation mit fünf Bandmitgliedern aus vier Ländern (Schottland, USA, Deutschland, Österreich).
Maestro Rupert Keplinger ist ein mehrfach platinausgezeichneter Songwriter/Komponist, bekannt und berühmt durch seine Arbeiten mit so erfolgreichen Acts wie Eisbrecher, Stephan Weidner, Oomph!, Peter Maffay und vielen mehr.
DARKHAUS-Mitbegründer Gary Meskil (der ebenfalls die legendäre US-Hardcore-Formation PRO-PAIN ins Leben rief) beschreibt ihren Sound als "stilistisch vielfältig, dunkel und emotional, aber mit viel Licht am Ende des sprichwörtlichen Tunnels".
Die fünf Architekten von DARKHAUS kombinieren ihre umfassenden Talente und präsentieren eine ehrgeizige und vielseitige Fülle von Songs, die den Druck des wahren Rock'n'Roll, seine große Geste und gleichzeitig jene "eingängigen Hooks und Melodien" zusammenführen, die heutzutage von Radiosendern rund um die Welt in den Äther geschickt werden.
Für Fans des emotional inspirierten Songwritings mit der Kraft, Körper und Seele zu beeinflussen!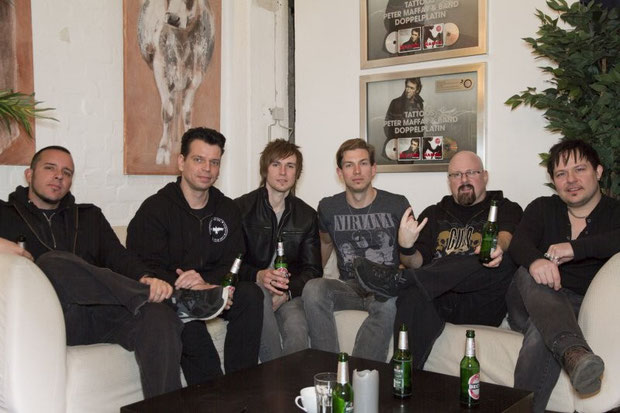 (die Band von links nach rechts: Marshall Stephens, Gero Herrde (A&R SPV GmbH), Kenny Hanlon, Rupert Keplinger, Gary Meskil, Paul Keller. Druckfähige Hi-Res version im Anhang.)
Gary Meskil: "Schon immer wollte ich eines Tages Musik wie diese machen, die sich von dem, wofür ich normalerweise bekannt bin, komplett unterscheidet. Neben Punk und Hardcore wuchs ich auf mit Bands wie The Cure, Siouxsie And The Banshees, Bauhaus und Depeche Mode - und all jene haben bis heute ihre Spuren in mir hinterlassen. Mit DARKHAUS kann ich diese Seite von mir endlich verwirklichen!"
Gero Herrde, A&R bei SPV: "Es ist nicht nur die Tatsache, dass jedes Bandmitglied von DARKHAUS seine musikalischen Fähigkeiten vielfach unter Beweis gestellt hat - es ist die Mischung ihrer Persönlichkeiten kombiniert mit dem Ehrgeiz, Musik zu produzieren, die im totalen Gegensatz zu ihrem früheren Output steht. Das ist es, was diesen Act so einzigartig und interessant macht!"
Das Debut-Album von DARKHAUS wird im Herbst 2013 veröffentlicht.
Mehr über die Band ab 21. März auf www.darkhausmusic.com