CENTURY MEDIA RECORDS is proud to announce the signing of LA's own AWAKEN THE EMPIRE. With influences ranging from Nirvana, The Cure and Smashing Pumpkins to A Place To Bury Strangers, Gwen Mars and Hans Zimmer, AWAKEN THE EMPIRE has created an organic and cinematic sound that is all their own, each song complete with soaring vocal melodies, addictive hooks and a passion that is audible with each note.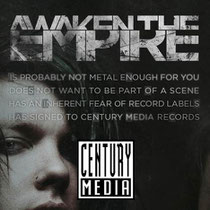 "Signing with a label that believes in and supports what I want to create as an artist, and what we want to accomplish as a band, has been nothing short of a miracle," says Damien Lawson, the mastermind and vocalist behind AWAKEN THE EMPIRE. "In a world where artists are turned into mindless label slaves, we could not be more excited to be a part of a family will let us create our own destiny."
"We are excited to welcome Awaken the Empire to Century Media's diverse and unique roster of amazing artists," says North American President of Century Media Don Robertson, "Damien has a rare musical and atmospheric vision and we look forward to helping him spread that vision around the globe."
The music video for the track premiered on MTV's Buzzworthy Blog and within 24 hours it peaked as the #7 "Most Popular Music Video" on MTV.com, the #1 "Most Commented Video" and the #1 "Most Shared Video." The "Rise and Fall" music video can be seen: http://buzzworthy.mtv.com/2012/06/18/awaken-the-empire-rise-and-fall-video/
AWAKEN THE EMPIRE - Damien Lawson (vocals/guitar), Daryl Falconer (drums) and Shivan Somaratne (guitar) - is preparing for their Century Media debut for release later this year. Additional music from the group can be heard on their YouTube page which hosts videos for a number of tracks including "The Awakening," "Cross My Heart" and "Saviour."
AWAKEN THE EMPIRE online:
www.facebook.com/awakentheempire
www.youtube.com/awakentheempire
www.twitter.com/awakentheempire
(deutsche Übersetzung folgt in den nächsten Tagen!)